Informaţii de cazare / Venue and Travel - Accommodation
---
BRAŞOV, ROMANIA - Europe
---
Location of Conference
:
"Transilvania" University of Braşov
, Address: 29 Bdv. Eroilor , 500036, Braşov, ROMÂNIA
Brasov
is a famous beautiful city in the middle of the country located at 176 km north of Bucharest.
Braşov
-
ROMANIA
(Physical Map) - General Information
Location: Central Romania, County: Braşov

Transilvania University of Brasov aims at training highly qualified specialists in the fields of fundamental sciences, technology, economics, law, sociology, arts and medical science as well as at providing knowledge and services for society. Thus, Transilvania University ensures and develops the resources and instruments necessary for educational and scientific research processes at a level which meets the requirements of The European Space for Higher Education and Research as defined by The Bologna, Copenhagen and Lisbon Declarations and promoted by The National Strategy for Higher Education in Romania.
Mission of UniTBv

Center of Transilvania University, (Address: 41 A Iuliu Maniu Street, Brasov). The city of Brasov is located in the centre of Romania, about 180 km north of Bucharest. It takes about 3 hours drive from Bucharest International Airport to Brasov. Intercity trains and European roads are connecting Brasov to the major cities in Romania and Europe.
First Romanian School Museum: Housed on the grounds of St. Nicholas Church, this was for centuries one of the leading learning centres of the Romanian people. The printing press that opened here in 1556 produced some of the first books written in Romanian. The museum hosts a compelling legacy: more than 4,000 rare books (many printed or copied by hand right here), several hundreds rare documents, the oldest Bible (printed on goat's skin) and much more. Source: http://www.romaniatourism.com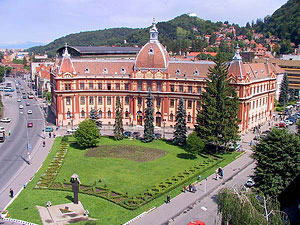 "Fringed by the peaks of the Southern Carpathian Mountains and resplendent with gothic, baroque and renaissance architecture, as well as a wealth of historical attractions, Brasov is one of the most visited places in Romania. Founded by the Teutonic Knights in 1211 on an ancient Dacian site and settled by the Saxons as one of the seven walled citadels, Brasov exudes a distinct medieval ambiance and has been used as backdrop in many recent period films. The location of the city at the intersection of trade routes linking the Ottoman Empire and western Europe, together with certain tax exemptions, allowed Saxon merchants to obtain considerable wealth and exert a strong political influence in the region. " Source: http://www.romaniatourism.com
---
Hotels in BRASOV

RECOMMENDATION:
- Hotel CAPITOL (***), Bd. Eroilor, 19; Brasov - http://www.aro-palace.ro/hoteluri_capitol_en.htm
- Hotel ADABelle (***), str. Pietii, 1; Brasov - http://www.adabelle.ro/
- Hotel Excelsior (***), str. Matei Basarab, 41-43; Brasov
OTHERS:
CAPITOL Hotel , 3 stars - 35 EURO
LONGSTREET Hotel, 3 stars - 22 EURO/ double room, 18 EURO/ single room