Informaţii de cazare / Venue and Travel - Accommodation
---
BUCURESTI, ROMANIA - Europe

Location of Conference: Universitatea din Bucuresti, Facultatea de Psihologie si Stiintele Educatiei, Adresa: Sos. Panduri nr. 90 , 50663, Bucuresti, ROMÂNIA
BUCURESTI, Romania's largest city and capital,is today a bustling metropolis (which in the 1900s earned its nickname of "Little Paris") .
Bucharest - ROMANIA (Physical Map) - General Information, Location: Central Romania, County: Bucharest (3D Map of Bucharest - http://www.harta3d.ro/)

Universitatea din Bucureşti este una din cele mai importante instituţii de învăţământ superior și de cercetare din România. În cei 150 de ani de existenţă, ea a ajuns să aibă un solid prestigiu naţional şi internaţional. În toate marile domenii ale activităţii academice şi ştiinţifice s-au afirmat şcoli de renume. Mulţi dintre absolvenţii Universităţii s-au afirmat ca personalităţi de seamă: profesori şi cercetători la majoritatea marilor universităţi ale lumii, membrii ai Academiei Române şi ai unor academii din alte ţări, scriitori, politicieni (parlamentari, miniştri, prim-miniştri, preşedinţi), diplomaţi etc. Misiunea Universităţii din Bucureşti este de a oferi tinerilor români o formare de nivel european în domeniile ştiinţelor exacte, științelor naturii, științelor sociale şi umane, de a produce idei noi şi de a reevalua stadiul actual al cunoştinţelor în toate aceste domenii. Astfel, instituţia noastră se afirmă ca o universitate de cercetare avansată şi de predare, aflată pe prima poziție în ierarhizarea universităților, realizată de către MECTS în 2011. Mission of University of Bucharest
The University of Bucharest offers numerous study programs, from BA to PhD, as well as lifelong learning programs. At the same time, it constantly collaborates with more than 100 prestigious universities from 40 different countries. All programs are accredited or authorized. The degrees granted by the University of Bucharest are recognized in most countries of the world. The University of Bucharest is a comprehensive university, oriented towards natural sciences, social sciences and humanities. The number of faculties is almost equal on each of these domains.
The strategy of the University of Bucharest emphasizes international co-operation as an essential part of the University's core activities.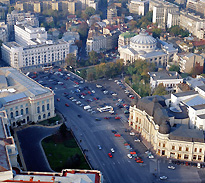 Revolution Square (Piata Revolutiei)-"The square gained worldwide notoriety when TV stations around the globe broadcasted Nicolae Ceausescu's final moments in power on December 21, 1989. It was here, at the balcony of the former Communist Party Headquarters, that Ceausescu stared in disbelief as the people gathered in the square below turned on him. He fled the angry crowd in his white helicopter, only to be captured outside of the city a few hours later. The square's importance stretches back long before the dramatic events of the 1989 Revolution. On the far side of the square stands the former Royal Palace, now home to the National Art Museum, the stunning Romanian Athenaeum and the historic Athenee Palace Hotel. At the south end of the square, you can visit the small, but beautiful, Kretzulescu Church." Source: http://www.romaniatourism.com
---
Hotels in BUCHAREST

RECOMMENDATION:
- Hotel Ibis Gara de Nord (***), Calea Grivitei nr. 143; Bucharest
- Ambasador Hotel (***), Bd. Gral. Gheorghe Magheru nr. 8-10; Bucharest
- Central Hotel (***), Str. Brezoianu nr. 13; Bucharest
- Hotel Euro Polizu Bucuresti (***), Str. Gheorghe Polizu nr. 4, Bucuresti
OTHERS:
- CISMIGIU Hotel, 4 stars - Bd. Regina Elisabeta nr. 38, Bucharest
- OPERA Hotel , 3 stars - Str. Brezoianu nr. 37, Bucharest
- VENETZIA Hotel, 3 stars - Piata Mihail Kogalniceanu, Bucharest